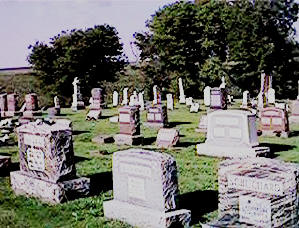 I visited Black Oak Lutheran Cemetery at the beginning of August 2003 and took pictures of all of the stones and wrote down the person's name and the dates they were born and died. (I'm not quite done yet my batteries died. I will have to make one more trip.) This is a fairly small cemetery but it is well maintained.

I would be more than happy to add pictures, obits, bios, ect., to this list. Also, let me know if any corrections need to be made.

To get to the cemetery from Mt. Carroll, take 78 south to 40 east. Follow 40 to Black Oak Rd. Turn right onto Black Oak Rd. and it is about 4 miles to the cemetery. To get there from Morrison, take 78 north to Argo Faye Rd. Turn right onto Argo Faye Rd. and it is about 3 miles to the cemetery. You can also take 40 north to Timber Lake Rd. Take Timber Lake Rd. to Black Oak Rd and turn left.

The Carroll County Genealogical Society has information online from the Black Oak Church (St. Paul's Lutheran) in Chadwick, including funeral records. Some of the people listed here have more info there. The Gene Society may also have more info on additional burials, military info, obituaries, etc. I hope you will contact them.

The Find-A-Grave website also has information about this cemetery.

NOTE: There is a small area that looks like a driveway BUT there is a metal pipe sticking up slightly, so if you park here, beware! It is best to park in front of the cemetery.
| | | |
| --- | --- | --- |
| NAME | BORN (GEB.) | DIED (GEST.) |
| ? | 24 Oct 1837? | 30 Jan 1875 |
| ? Cathorine (Broken stone. One in front says Allenson) | | 02 Oct 1863 |
| ?, Heinrich | | 1865? |
| | 1861 | 1945 |
| | 1885 | 1943 |
| | 1885 | 1962 |
| | 1862 | 1947 |
| ADOLPH, Howard | 1914 | 1921 |
| | | |
| ALTENSEN, George | 17 Sep 1840 | 01 Mar 1910 |
| ALTENSEN, George H. | 20 Nov 1877 | 20 Apr 1910 |
| ALTENSEN, Heinrich | | 17 Mar 1879 |
| ALTENSEN, John J. | 1881 | 1970 |
| ALTENSEN, Julia | 1882 | 1965 |
| | | 02 Oct 1889 |
| | 27 Dec 1834 | 08 Jul 1816 |
| BAUERLY, John | 18 Feb 1839 | 01 Jul 1882 |
| BAUERLY, John | 02 Apr 1875 | 02 Feb 1896 |
| BIBCKENSTOCK?, Elisabeth | | |
| | 1866 | 1943 |
| | 1866 | 1937 |
| | 08 Mar 1898 | 23 Mar 1918 |
| DIEHL, Amenia | | |
| | | |
| | 04 Apr 1818 | 16 Aug 1887 |
| | 1833 | 1898 |
| | 13 Apr 1855 | 14 Mar 1921 |
| | 08 Nov 1851 | 28 Aug 1931 |
| | 11 Jan 1811? | 16 Jan 1892? |
| EISZFELLTER?, John | | 01 Martz 1877 |
| | 1899 | 1930 |
| | 1884 | 1948 |
| GEISZ, Henry | 05 Jan 1815 | 13 Mar 1875 |
| | 1882 | 1969 |
| | 21 Jan 1845 | 20 Mar 1917 |
| | 05 Feb 1837 | 23 Dec 1923 |
| | 1888 | 1965 |
| H(ULL?), Katharina | Marz 1817 | 11 Oct 1896 |
| | | |
| HARTMAN, Alfons | 13 Sep 1832 | 01 Jan 1919 |
| | | 10 Apr 1899 |
| HARTMAN, Arnold W. | 1917 | 1918 |
| | 18 Oct 1860 | 20 Aug 1852 |
| | 1905 | 1985 |
| | 1934 | |
| | 1904 | 1986 |
| HARTMAN, Edward A. | 20Oct15 | 03 Jan 1919 |
| | 03 Jan 1885 | 30 Jan 1944 |
| | 1882 | 1932 |
| | 1850 | 1934 |
| HARTMAN, Ervine | | 24 Mar 1911 |
| HARTMAN, Irwin | | Jul ? |
| | 16 Dec 1855 | 30 Jan 1943 |
| | 1843 | 1929 |
| HARTMAN, George J. | 29 Jan 1886 | 02 Mar 1901 |
| | | 14 Jan 1904 |
| | 02 Mai 1815 | 26 Nov 1881? |
| | 24 Jun 1801 | 02 Nov 1882 |
| HARTMAN, Lizzie M. | | 1888 |
| | 10 Apr 1893 | 10 Apr 1937 |
| HARTMAN, Paul C. | 1911 | 1916 |
| HARTMAN, Robert P. | 1928 | 1929 |
| | 10 May 1860 | 11 Jan 1933 |
| | 1933 | 1967 |
| | | 24 Aug 1917 |
| | 1874 | 1954 |
| | 20 Aug 1854 | 07 Apr 1913 |
| | 02 Marz 1829 | 29 Aug 1902 |
| | 16 Dec 1817 | 15 Jan 1905 |
| | 24 Nov 1844 | 15 Mar 1905 |
| | | 1899? |
| | 30 Jun 1836 | 06 Dec 1925 |
| | 11 Aug 1845 | 11 Dec 1891 |
| | 21 Oct 1878 | 30 May 1929 |
| KAHLER, Florence K. | 1910 | 1910 |
| | 28 Jan 1875 | 28 Feb 1962 |
| KEIL, Conrad | | 02 Jan 1890 |
| KEIL, Elizebeth | | 31 Dec 1906 |
| | 16 Nov 1856 | 06 Jul 1870 |
| | 22 Mar 1874 | 03 Feb 1877 |
| | 16 Nov 1868 | 05 Jan 1870 |
| | 24 Apr 1840 | 27 Sep 1918 |
| | 23 Oct 1840 | 02 Jun 1899 |
| | 01 Mar 1811? | 04 Mar 1899 |
| | 22 Jun 1848 | 08 Jan 1925 |
| | 14 Jan 1815 | 25 Feb 1883 |
| LENTSCHLER, Henry F. | | 27 Oct 1889 |
| | 1917 | 1931 |
| MERZ, Heinerich | 24 Aug 1873 | 21 Mai 1874 |
| MERZ, Johonn | 02 (07?) Jun 1840 | 10 Marz 1874 |
| MICHEL | | |
| | 13 Nov 1829 | 6 Sept 1903 |
| MICHEL, Anna Eliesa Rister | 16 Dec 1833 | 03 Jun 1895 |
| MILLER, Albert | 1904 | 1905 |
| | 1902 | 1937 |
| MILLER, Clara | 21 Oct 1878 | 30 May 1929 |
| | 17 Mai 1801 | 13 Apr 1883 |
| | 1873 | 1929 |
| | 09 Jan 1856 | 09 Feb 1903 |
| | 22 Feb 1837 | 05 Feb 1915 |
| MILLER, Mary C. | 11 Mai 1872 | 27 Jan 1903 |
| | 10 Nov 1849 | 15 May 1936 |
| MOECKEL, George M. | 15 Jul 1883 | 05 Mar 1884 |
| MOECKEL, Henry | 16 Nov 1884 | 18 Nov 1903 |
| MOECKEL, John | 20 Mar 1893 | 01 Feb 1895 |
| | 28 Feb 1863 | 25 Feb 1958 |
| | 1895 | 1896 |
| | 1901 | 1922 |
| | 1887 | 1959 |
| | 1843 | 1921 |
| | 1870 | 1948 |
| | 26 Apr 1865 | 16 Mar 1935 |
| | 1933 | 1921 |
| | 13 Jul 1872 | 28 Apr 1902 |
| REEHL, Florence K. | 30 Nov 1913 | 06 Jan 1914 |
| | | 16 Jun 1900 |
| | 28 April 1844 | 21 Dec 1926 |
| RUEHL, Heinrich | 05 Dec 1817 | 05 Oct 1881 |
| | 1919 | 1987 |
| | 24Nov22 | 16 Jun 1902 |
| | 1922 | 2002 |
| | | |
| | 07 May 1833 | 06 Sep 1906 |
| | 18 Apr 1842 | 14 Sep 1904 |
| SCHLEUNING, Conrad | 04 Jun 1839 | 03 Sep 1910 |
| | 06 Jul 1913 | 23 Mar 1929 |
| | 28 Jan 1865 | 14 Jan 1937 |
| SCHLEUNING, Heinrich | 27 Jan 1835? | 08 Nov 1883 |
| SCHLEUNING, Margarath | 07 Nov 1870 | 11 Jan 1933 |
| SCHLEUNING, Teresa M. Richter | 1843 | 1892 |
| SCHLINING, Geo. Albert | | |
| SCHLINNING, Catharine | | 29 Sep 1867 |
| SCHLINNING, Infant Dau. | | |
| | 05 Mar 1881 | 27 Jun 1973 |
| | 1859 | 20 Nov 1936 |
| SCHUCHARDT, John | 12 May 1857 | 01 Aug 1910 |
| SCHUCHARDT, John | 26 Apr 1899 | 1902? |
| | 25 Feb 1894 | 10 Sep 1906 |
| | 06 Oct 1864 | 21 Mar 1933 |
| | | 09 Jan 1891 |
| | 07 Oct 1825 | 15 Oct 1911 |
| | 27 Feb 1869 | 22 Feb 1943 |
| | | |
| | 23 Jan 1833 | 28 Feb 1903 |
| | 24 Mar 1871 | 22 Feb 1897 |
| | 17 Aug 1810 | 30 Dec 1893 |
| | 16 Dec 1868 | 03 Jan 1929 |
| | 09 Oct 1840 | 12 Nov 1904 |
| | | 11 Nov 186? |
| WAGNER, Amelia | 15 Sep 1863 | 09 May 1933 |
| WAGNER, Anna E. | 11 Oct 1838 | 04 Sep 1911 |
| | 16 Mar 1832 | 16 May 1905 |
| | 1883 | 1958 |
| WAGNER, Georg | 1831 | 1881 |
| | 27 Feb 1861 | 28 Jan 1933 |
| | 23 Jun 1876 | 05 May 1925 |
| WAGNER, Sylvester | | 05 Apr 1884 |
| | 1879 | 1953 |
| | 24 Jun 1840 | 06 Dec 1923 |
| | 03 Aug 1869 | 30 Aug 1934 |
| | 20 Jun 1838 | 18 Feb 1909 |
| | 1864 | 1950 |
| | 31 Mar 1859 | 26 Jan 1927 |
| | 1889 | 1974 |
| | 03 Sep 1849 | 27 Jan 1939 |
| | 1879 | 1953 |
| | 03 Apr 1892 | 01 Nov 1919 |
| | 1869 | 1937 |
| YOECKEL, Otto | 1886 | 1950 |
| | 20 Mar 1875 | 07 Aug 1938 |
| | Jan 1815 | Oct 1885 |