The following article appeared in the Dec. 13, 1973 issue of the Mt. Carroll Mirror-Democrat. I couldn't resist sharing it with you. "Poffy's" is now Charlie's. They have some of these same photos on the wall and some neat info about Poffy.
Poffy's-Where Intellectuals Foregather
By Frances Chamberlain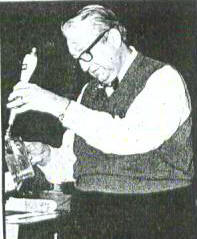 Way back in 1923 a private investor gave birth to a long-standing tradition in Mt. Carroll, Frank Poffenberger, for $500 and out-standing debts, bought the pool hall from Charles Julian. His business was carried on in the Adams building on Market St.
In those long, dry days, however, the pool-table was not the only source of income. In the back room the walk-in-cooler held a few gallon jugs of profit for the Poffenberger family. One visit from Sheriff Henry Shiley, unfortunately, cost the business about $700. But, according to Frank's son Walter, "We only got knocked off once". Paying a $700 fine for possession of liquor was fair warning for the Poffenbergers-that was the only time they were caught.
After the days of Prohibition had passed, Frank paid, in October 1938, $100 for the back and front bar of the present tavern. Now that he was free to contract business in an open manner he enlisted the help of his son, Walter.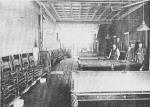 Having graduated from the Mt. Carroll Community School in 1929 Walter learned the ropes of the bar-tending trade through real experience. He did not stay strictly in the tavern business, however. A brief stint as a politician made his name even more well known around town. In his campaign for mayor of Mt. Carroll in 1935, Walter said., "I am against the utility company having any contracts or franchise with the city for any great number of years, I prefer year -to-year contracts. I shall do anything within my power to benefit the taxpayers- Economy is my motto".
W. W. Hartman, incumbent in the Mayoral election received more votes than Leo Robbe and Walter Poffenberger combined.
Walter left soon after that to spend 27 months in the Army, serving in the 3rd medical battalion during W.W II. He returned about 1946 and settled down to the serious business funning the well-established Poffenberger tavern.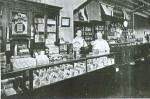 Business grew and Walter expanded to the vending supply trade. He now manages 60 coin-operated machine in Stockton , Chadwick, Lanark and, of course, Mt. Carroll.
In 1965 Frank Poffenberger died and Walter and his mother carried on the business alone. On July 5, 1966, the moved the tavern down the street to its present location.
Since the early days of the business Walter has served a large variety of people in his capacity as bartender. He spoke with fondness of Mark Benney who suggested the words "Where Intellectuals Foregather' as a motto for his bar napkins. Mark Benney's book "Almost a Gentleman" as well as Robert Russell's novel "To Catch An Angel' speak with familiarity of the tavern and of the Poffenbergers.
As he thumbed through old copies of Excalibur and reminisced about the many people he had known, Walter mentioned Hal Kirkby, professor of Science of Shimer and Merlin Bowen who is now at the University of Chicago.
When asked what his thoughts were about the Mt. Carroll Community Walter produced with a flourish a receipt for $1,000 paid to the Citizen's Save Shimer Fund and said he felt "the entire city should support this cause."
Closing time, particularly, has become a confirmed tradition in Mt. Carroll life. "You don't have to go but can't stay here" re-sounds throughout the building as patrons prepare to take their final swallow and say a last few words to a friend. As Walter says "I've got your dough, no go" everyone heads for the door. Lights go out, good-byes are voiced and the chairs go up as Walter finally says "Let's get out of this firetrap."