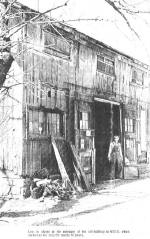 The Village Smithy
The red weather-torn building down on Mill Street or Birmingham Flat, is a familiar sight to all of us. Strangers in town would probably never guess, however, that not too many years ago it was a very prosperous blacksmith's workshop.
Leo Robbe, the village smithy, spent well over 40 years working at his trade in that building. Framed on the wall near the forge was the license, dated 1924, certifying that he was a registered horseshoer under the provisions of an act for the regulation of the business of horseshoeing. In order to obtain the license Leo shod a horse before a four man examining board in Springfield. Applicants were graded on getting the shoe ready for the foot, getting the foot ready for the shoe and finishing the foot. There was also an examination on the structure of the foot; Leo later spent three years as an examiner on the same board.
The old building where Leo spent so many years was first built in 1881 by blacksmith Jim Henry on land purchased from J. M. Shick, Leo's father, Reuben Robbe, bought it and later sold it to William Isenhart before going into business with John Stober. The two men operated a shop where the laundry now stands on West Market St.
Leo started at the rather tender age of 15 to learn his father's business. He worked with Stober for a short time and in 1923 he bought back the old shop on Mill Street.
The only modern convenience ever admitted into Leo's shop was the electric bellows used to fan the fire. He was often called upon to hammer and sharpen plows and to weld and repair mower sickles. Leo did all his welding on the forge and scorned the modern acetylene torch. He always used regular blacksmith coal even though supplies were not always easy to find. This particular coal contained practically no smoke, gas or sulphur so the iron always came out of the fire clean.
A blacksmith's trade, of course, has its' occupational hazards, Leo, like almost every other smithy, had-been kicked a few times. Man, being somewhat smarter than the beast, devised some methods to aid the smithy in his work. A standard tool of the trade was the "twitch", which is a rope or noose with a long ax handle attached. The smithy puts the rope on the horse's nose and starts twisting. The horse can only think about one thing at a time so he concentrates on the twitch and ignores the blacksmith working on his feet.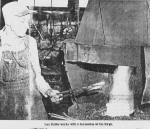 Colts were especially difficult to work with. Leo liked to shoe one without the owner present. When he was fortunate enough to get a horse that "stood well' it only took about an hour to do the job.
Robbe was much more than the village smithy, however. From 1932 until 1941 he served as alderman. After having established a good reputation in local politics he ran for Mayor. This victory led him into a 16 year career as May of Mt. Carroll. During 25 years of public service Leo continued his labor at the forge.
Leo and his wife became noted citizens in Mt. Carroll over the years. Mrs. Robbe claims that she and Leo seldom left Carroll County. Their friends, social life, two sons and Leo's smithing and political career was enough to keep them happy and satisfied with Mt. Carroll forever.
Leon used to work very hard in the winter seasons around Carroll County. All the farmer's horses needed shoeing then. What he often did was to screw metal corks into ready-made shoes. With their spiked shoe a pair of draft horses could easily climb a winter hill that a modern tractor wouldn't attempt. The old red building was a very busy place in those days.
During the past 30 years, though, very few people have brought any horses to Leo's shop. Since about 1940 most farm horses have become rather scarce and saddle horses have become more popular. Leo soon began traveling all over Northern Illinois making "house calls." He went as far as Scales Mound, Elizabeth, Hanover, Freeport and Rockford, as well as serving the local area. Leo carried an anvil in the car and tool different size shoes along. Light saddle shoes could be fit cold as well as hot since they were steel. Many of his house calls were at riding stables throughout the area. Although Leo never lacked for business the purpose of a blacksmith's shop had changed radically since the day he opened up in 1924.
A few years ago Leo became unable to work any longer and the doors of the old shop were closed. On April 8, 1873 he and his wife celebrated their 50th wedding anniversary with their two sons Robert and Jack, their daughters-in-law and six grandchildren. A large number of old friends and acquaintances joined in the festivities for the two people who had made themselves such an integral part of Mt. Carroll's social, business and political life.
On the 9th of July, 1973, Leo Eugene Robbe passed away, Mrs. Robbe has now offered the shop on Mill St., to the Carroll County Historical Society. There remains the possibility that someday the red building will be opened up to view the tool of a vanishing trade. Longfellow has immortalized the "village smithy" in every town in the world. Mt. Carroll had a blacksmith who was well worth such immortality and the heritage of his past should not soon be forgotten.