Please click on any photo to see a larger image.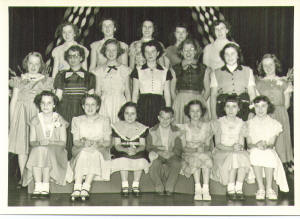 This photo has no date or any information written on it except to say "Rustling of Spring". (Jane is the one with the arrow pointing at her.) This could be either a St. John's or Savanna High School function.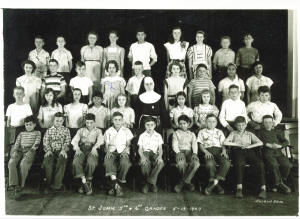 St. John's 5th & 6th Grades. 13 May 1949. Jane has an X on her dress. Sister Sylvasia, teacher is noted on the back.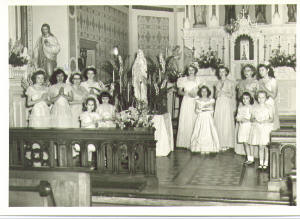 Inside of St. Johns Catholic Church, Jane's class of girls & 1st grade.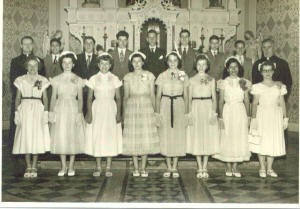 These are the 8th grade graduates of St. John's Catholic School, Savanna IL, May 1952.
Pictured in the back row are Father McDonald, Joe Costanado, Jay Allen O'Leary, David Fonger, Richard Altensey, Jay McCall, Jack Heitman, Dale Geisler and the second priest whose name is not known. In the front row are Judy McDonald, Geraldine (Gerry) Crammer (no relation to priest), ?, Linda Kuntz, Helen Haas, ?, Sally Reize, and my mother-in-law Jane Hatheway. If you can help identify the others in the photo, it would be much appreciated.