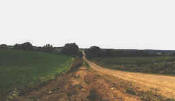 Welcome -
This page is part of the ILGenWeb Project, which is part of the larger USGenWeb project. The GenWeb Archives Project can be found here. Due to poor health, Colleen Frank found it necessary to give up website administrative coordinator position for the Carroll County website. I appreciate all the hard work Nettie Mae, before me, put into this site. I look forward to passing the torch to the next coordinator to help all those who have an interest in expanding knowledge of Carroll County genealogy. I hope you will find this site to be a very useful tool.
Carroll County is located in the northwestern part of Illinois on the Mississippi River. The county seat, Mt. Carroll, is located on U.S. Highway 78. The county was formed in 1839 from Jo Daviess County, but the final townships were not completely defined until 1850. See the township history section for more details.
This site uses the RootsWeb Message Board for its query system. To view the Carroll County, Illinois boards, click here. Here you can also post biographies, obituaries and other items of genealogical interest.
Please be aware that offsite links are not part of Jo Daviess County ILGenWeb, and ILGenWeb is not responsible for their content.
What's New


Email ***Position Vacant*** (Carroll County Webmaster)